Welcome to El Mundo
Where you sit back and we serve a wonderful variety of world favorite food on your plate. Kuminda Krioyo (local food), International dishes or even Indonesian dinners, nothing is too much for you.
Our expanded seating area covers a large number of dinner tables as well as high bar tables, it doesn't matter if you wish to sit down for a drink and a game or enjoy breakfast, lunch or dinner. You are welcome to join us. Of course you are also welcome to join us at the cozy bar.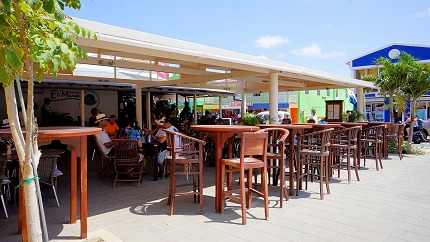 Located along the main town square "Wilhelmina Plein", we are also a very popular hangout for all those sports lovers who enjoy watching mayor games on our big screen TVs.

What can you expect?
At El Mundo we offer breakfast, lunch and dinner. The restaurant is open non-stop every day from 8am till 10pm and the bar till 11pm, so we are always ready to serve you.
Take a look at our menus and see for yourself what our talented chef has to offer. Our friendly staff will help you with your selection of drinks and if there is anything the chef should know before preparing your meals, just tell our staff and we will take care of your culinary needs.

| | | |
| --- | --- | --- |
| | | |
| Breakfast/Lunch | Dinner | Drinks |
A lively place
We regularly host live music, regional dance evenings, spectacular sports events and popular holiday celebrations. Aside from that we can also host your own celebration or business meeting and we offer wide possibilities for catering services.
Check and Like our Facebook timeline for specials and events. Visit the page or view our timeline updates right here.